Hundred to One Shot is an apparel and design brand based in Nottingham, UK. Both Hundred to One Shot designers are heavily influenced by Japanese pop culture, cyberpunk style and steampunk automations. Our passion for these genres comes through in our designs.
The name 'Hundred to One Shot' is linked to the start of the brand itself. Having worked in professions unrelated to our interests for years, we took it upon ourselves to try and make a living doing something we enjoy. The prospect of starting a fashion brand from nothing in hope of eventually making a living from it seemed like a big gamble - a 'Hundred to One Shot' chance.
Our design process begins with a flash of inspiration. This can come from anywhere – a book (we have lots of those!), a magazine or even a documentary. This then evolves over many painstaking hours into the designs you see here. We work using both traditional and digital techniques, and you can see more on our design process on our social media channels.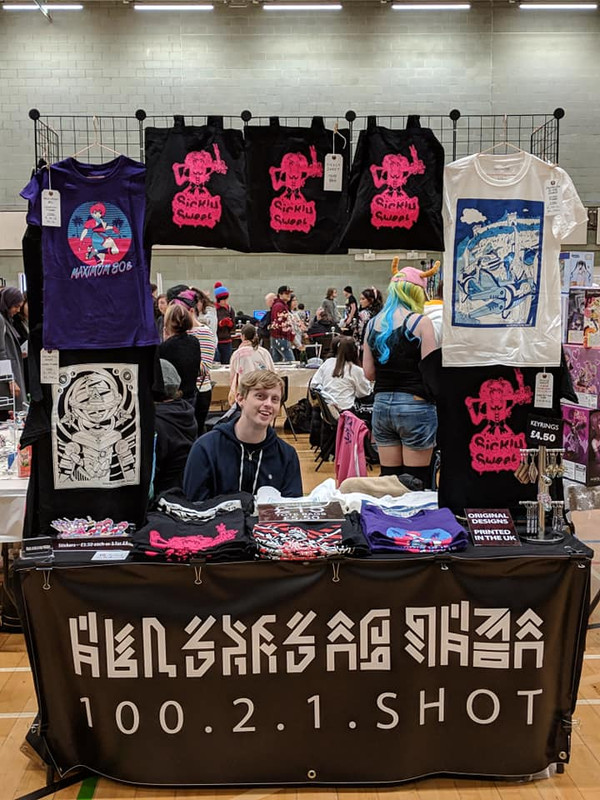 As well as selling our designs online, we also sell in person at some of the many anime and sci-fi conventions across the UK. We really enjoy meeting our customers and love to talk to people about our designs. For further information about what conventions we'll be at next, check out our social media. The next conventions that we will be trading at this year are:

Mega Con Birmingham - 26th-27th March 2022
J-Con Derby - September 2022
Sunny Con Newcastle - 24th-26th June 2022
Doki Doki The Manchester Japanese Festival- 27th and 28th August 2022
If you have any suggestions about what kind of designs you would like to see from us next, or any other questions, please just drop us an email at 100.2.1.shot@gmail.com. We'd love to hear from you!